The easiest coconut fish curry you will ever make.
A fish curry recipe that is mild and not too spicy but gives the softest and creamy texture to the fish.
Inspired by Sri Lankan flavours and keeping in theme with simplicity, enjoy the dish with a steaming bowl of rice.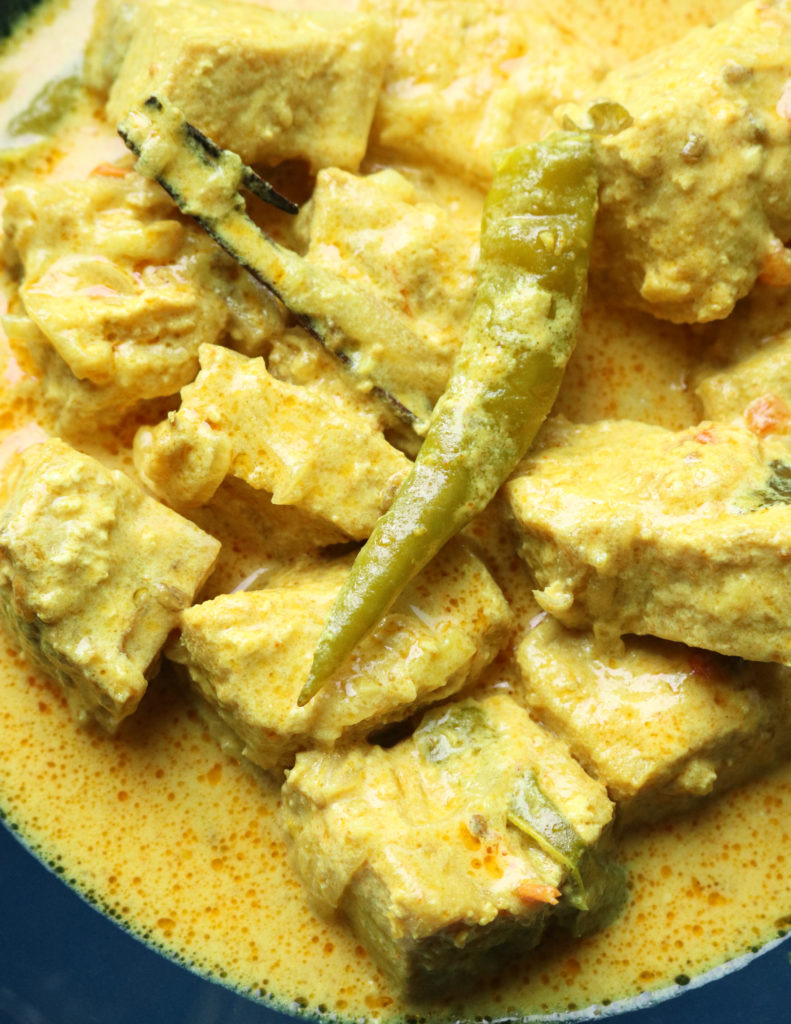 What to serve with coconut fish curry
Serve with any rice dish.
Serve with various types of Indian flat bread or parathas.

Chapathi or paratha.
Roti canai.
Poori.
Homebaked bread or regular sandwich bread.
Salads and raitas to serve with the easy fish curry.

Pineapple salsa
Eggplant salad
A pineapple and cabbage slaw or Asian slaw.
Vegetable curries to serve with the mild fish curry recipe.
More easy side dishes to serve with the fish curry.

Sauteed green beans with garlic sauce.
Easy sauteed potatoes or baked potatoes.
Grilled or oven-baked cabbage wedges.
Tips to make the best creamy coconut fish curry.
Choose a white fish that can hold firm when cooked for a long period of time.
Salmon, tuna cubes, and sailfish are some varieties that you can try.
Make the mild coconut gravy first, let the gravy become thick before you add the fish. this allows you to make flavorful coconut milk gravy which the fish absorbs as it cooks.
Knowing when to add the fish and when to remove the fish curry from the stove is important.
Use a wide-mouth pan that will allow the fish to cook without crowding each piece.
More coconut milk-based seafood recipes.
Ingredients to cook creamy coconut fish curry
Sailfish, tuna, or any type of firm fish cubes.
Water as needed.
Oil for tempering the onions and spices.
A few curry leaves, you can substitute curry leaves with a bay leaf.
Minced garlic.
Onion
Fenugreek
Tomato
Turmeric powder
Red chilli powder can be substituted with paprika powder.
Green chillies, you can avoid adding them if you want less spice.
Thin coconut milk-this is simply made by diluting water to thick coconut milk.
Thick coconut milk
How to make a creamy coconut fish curry.
Lightly rinse the fish chunks with a little turmeric powder.
Leave the fish out to drain all excess water.
Tempering onions and spices to make the fish curry.
To make the mild spice base, we first cook the onions, curry leaves, and garlic in oil.
To add a second layer of flavour, chopped tomatoes, turmeric, red chilli powder, and green chillies are added to the sauteed onions.
And cooked to make a coarse spice paste.
We add the thin milk to the spice paste.
Season the thin coconut milk gravy with salt and let it simmer over medium fire until the milk is reduced in half.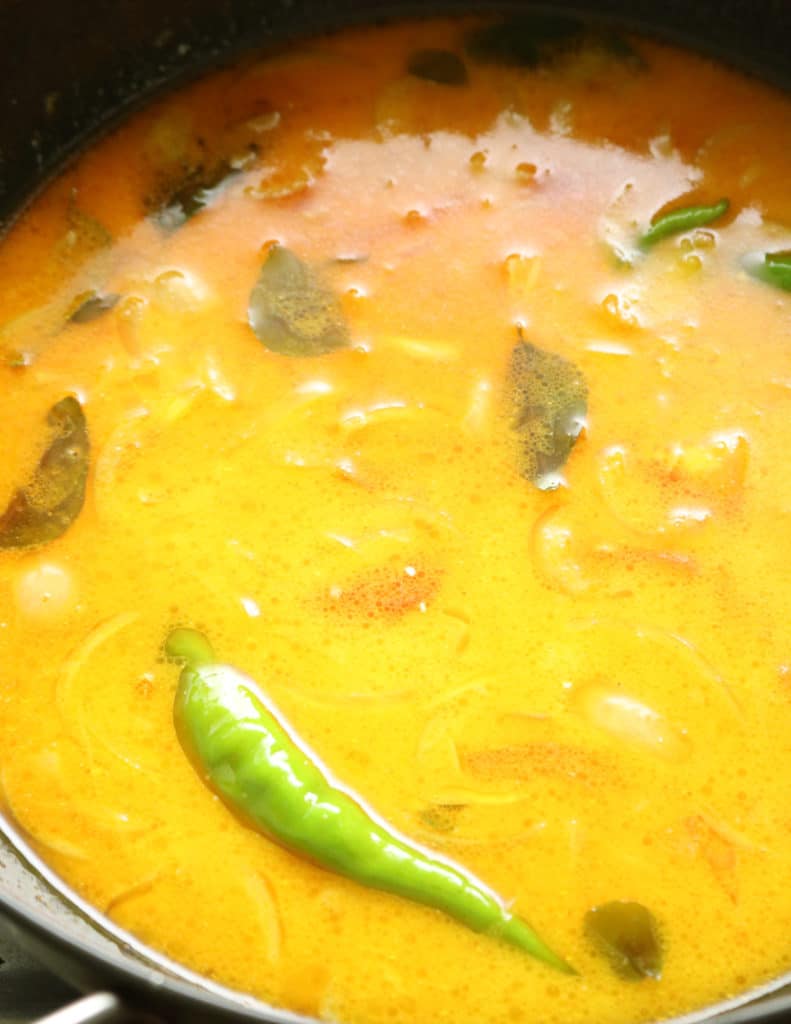 To this thin seasoned coconut milk gravy, we add the fish cubes.
Once you add the fish cubes, let the fish cook for 5-7 minutes over low-medium heat before adding the thick coconut milk.
let the fish cubes cook in the thick coconut milk until you notice the coconut fish gravy thickening and coating the fish cubes.
Make sure to taste and adjust the flavours as you need.
The result is an ultra-rich and creamy coconut fish curry, you'll love.
Serve with any of the side dish ideas given above.
easy coconut fish curry(mild)
The easiest coconut fish curry you will ever make.
A fish curry recipe that is mild and not too spicy but gives the softest and creamy texture to the fish.
letting the white fish simmer in coconut milk infused with spices will give the fish curry its amazing sauce-like smoothness to pour over the fish.
Ingredients
500g of fish steaks of sailfish cut into large chunks(thalapath, for substitute fish, refer to above notes)
To wash and clean the fish
1/4 teaspoon turmeric powder
Water as needed
3 tablespoons of oil(vegetable, canola, sunflower oil)
A sprig of curry leaves(substitute with 2 bay leaves)
2 tablespoons of minced garlic(about 3 cloves of garlic miinced of grated)
1 medium onions chopped or sliced
1 teaspoon of fenugreek seeds
1 medium-sized tomato chopped
1/2 teaspoon of turmeric powder
1/2 teaspoon of red chilli powder(increase to 1 tsp for more heat, substitute with paprika)
2 green chillies(can avoid adding if you want to reduce heat of the curry)
2″ piece of cinnamon
1/2 cup of thin coconut milk(1/4 cup of thick coconut milk diluted in 1/2 a cup of water)
1 cup of coconut milk(reduce to 1/2 a cup if you want less gravy)
Salt to taste
Instructions
Cut the fish cubes into 1" and 1/2" cubes.
Add the fish cubes into a bowl or pan, and add turmeric powder(1/4 tsp).
Pour water(2 cups) onto the fish and rinse the fish. repeat once more.
Avoid soaking the fish in water for a longer period of time, once you've washed the fish cubes, drain all excess water and set it aside.
How to cook the fish curry.
Place a cooking pan over the low-medium fire and pour in the oil(3 tbsps).
Let the oil heat for a few seconds, and add the curry leaves(a sprig, substitute with 2 bay leaves), minced garlic(2 tbsps), and chopped onions(1 medium).
Cook for 2 minutes and then finally add the fenugreek seeds(1 tsp).
Saute with the fenugreek seed for just 60 seconds over a reduced fire.
Make sure not to burn the fenugreek seeds as this leads to bitterness that will come through in your coconut fish curry.
You can avoid the burning by constantly stirring the sauteing ingredients in the pan.
Add the tomatoes (1 medium), turmeric(1/2 tsp), chilli powder (1/2 tsp, add 1 teaspoon more for more heat. substitute with paprika).
Add the green chillies (2, you can skip this ingredient to reduce heat), and cinnamon pieces (2″).
Reduce heat to low, cook for 2 minutes breaking down the tomatoes.
Pour in the thin coconut milk(1/2 cup, to make thin milk simply mix 1/4 cup thick milk with 1/2 cup of water).
Stir and slow simmer over low fire for 10-15 minutes, season with salt.
Let the thin coconut milk simmer until reduced in half.
Gently add the fish chunks into the thin coconut milk and continue to cook for another 5 minutes.
Add the thick coconut milk (1/2 to 1 cup as per your preference for more or less gravy. taste and season with salt.
Slow simmer for another 3-5 minutes or until you have a thick creamy coconut milk fish curry.
Nutrition Information
Yield

4
Serving Size

1
Amount Per Serving
Calories

659
Total Fat

43g
Saturated Fat

22g
Trans Fat

0g
Unsaturated Fat

18g
Cholesterol

149mg
Sodium

295mg
Carbohydrates

10g
Fiber

2g
Sugar

2g
Protein

61g